confession:
I hate tomatoes.
I know, I know.
I see all of you, with your summer gardens, and salt and peppered homegrown slices.
Your caprese salads and tomato sandwiches.
I want to like tomatoes, I really do.
I just don't.
I do the tomato soup thing, you know, dip my grilled cheese into the Campbell's.
And it's pretty good, but that's all it is. Just for dips.
Can't drink the stuff.
But this? This is different.
This is a host of German angels dancing on your taste buds.
This is the ultimate comfort food.
This is heaven in a bowl.
It's my grandmother's recipe. Her name is Frida, so you know it's good.
You need:
5 or 6 juicy red tomatoes
1/2 stick of butter
1/2 c. flour
chicken broth
rice
sour cream
dill
salt, pepper (to taste)
Lipton cream of chicken soup (dry) packet*
onion powder*
hot sauce*
*optional ingredients. I never add hot sauce, but I do use the c.of.c packet if I have it on hand (usually do), and the onion powder.
Cut up your tomatoes into big chunks and throw them in a pot of boiling water. Cook until soft.
While this is cooking start your rice.
Drain tomatoes in a strainer, hold over the pot, and squish out all the juice from the tomatoes. I just use a spoon to do this. You want to keep the seeds/skin from going into the soup, but get out all the liquid you can.
In a separate pot, combine the butter (melted) and the flour. Combine on low heat to make a roux. Add to tomato juice and stir to thicken. throw in your s&p and any of your optional ingredients. Add chicken broth- as much or as little as you want, depending on how thick or runny you want your soup to be. I like mine a little thicker.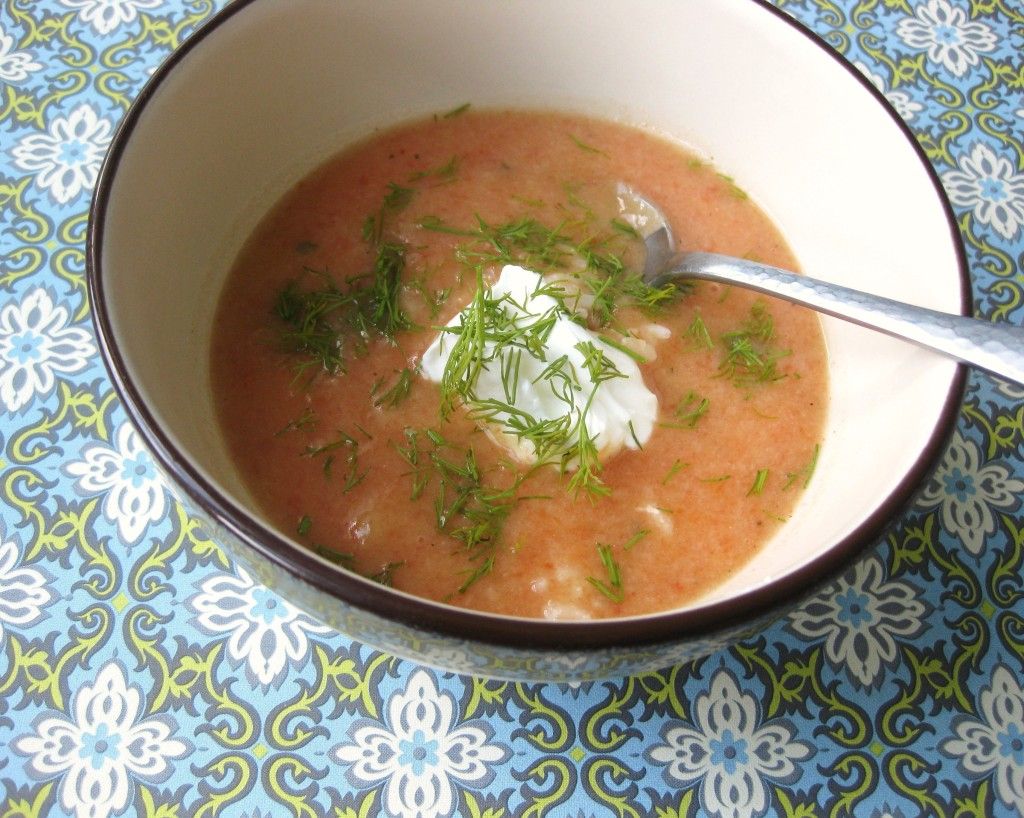 The traditional German way to eat it is to serve it over rice, with a dollop of sour cream**. Sprinkle liberally with fresh dill. (seriously, don't skip the dill. Half the dancing angels come from the dill. don't tell me if you skip the dill. sacrilege).
**of course, if you want to skip the rice, and just use it to dip your grilled cheese, that's okay. just don't skip the dill!!